Ivermectin is used for internal and external parasites, internal parasites like nematodes, like intestinal worms and stomach worms plus lungworm. Ivermectin does not work on liver fluke and tapeworm. However, it works on microfilaria. Microfilaria is quiet common in buffalo when buffalo is infected with microfilaria then it starts circling. In this case, ivermectin is very effective.
Ivermectin kills external parasites like lies and mite and ticks. Most of the formulation in the market recommend 1 ml injectable ivermectin on 50 kg of body weight. The injection is always given subcutaneous (under the skin). The injection of ivermectin is very much irritable so the area around injection should be massaged.
Ivermectin injection is effective for 28 days. Virbac company Ivermectin Platinium (Hitek – Platinum) works for 70 days. The ivermectin Platinium (F) also kills liver fluke, Ivermectin is also given orally, in goat ivermectin is not injected but given orally. Very young animals up till the age of five months should not be given ivermectin. The heifers and pregnant and cow or buffalo pregnant for 7 months is given ivermectin at the time of drying the pregnant cow.
The ivermectin is used in the pregnant dry animal but its use in a lactating dairy animal is illegal because it is excreted in milk which affects the nervous system of the milk consumer. Consult your veterinarian about the use of ivermectin. The products of Virbac and Karnataka Antibiotics LTD and other companies are shown below.
It is illegal to use ivermectin in lactating animals.
Products of Virbac
HITEK™ – INJECTION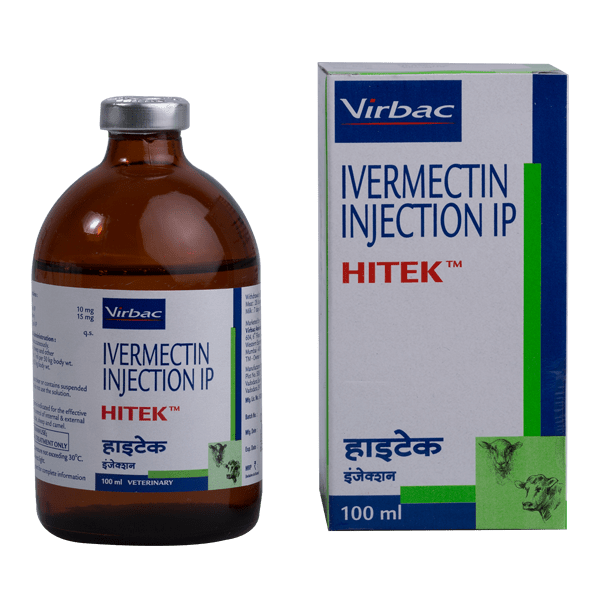 HITEK™ – INJECTION  helps in the treatment of Endoparasites like Gastrointestinal and Pulmonary Nematodes, Eye worms, Skin and Muscle worms and Ectoparasites like Ticks, Mites, Lice and Grubs.

Source: Virbac

WHY CHOOSE HITEK™ – INJECTION?
HITEK™ – INJECTION -Most Advanced treatment and control against both Internal and External Parasites.
COMPOSITION
Each ml contains
Ivermectin IP 10 mg
Benzyl Alchohol IP
(as preservative) 15 mg
Propylene Glycol IPq.s.
DOSAGE & DIRECTIONS FOR USE
Cattle: 1 ml per 50 kg body weight by S/C route
PACK SIZES
1 ml vial in box of 5 vials, 10 ml ,30 ml & 100 ml vial.
HITEK™ PLATINUM INJECTION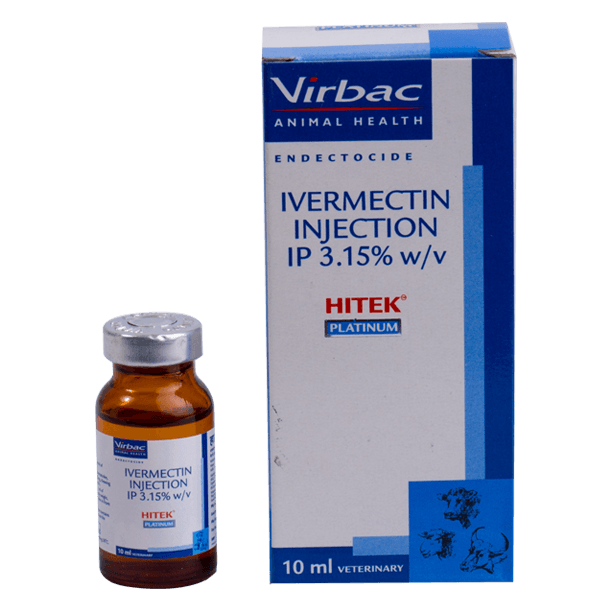 HITEK™ PLATINUM Injection contains 3.15% ivermectin for extended endectocide efficacy.

Source: Virbac
WHY CHOOSE HITEKTM PLATINUM INJECTION?
A 3.15% ivermectin injection for Extended Endectocide Efficacy
COMPOSITION
Each ml of Hitek Platinum contains:
Ivermectin IP 31.5 mg
Benzyl Alcohol IP (As preservative) 15 mg
Propylene Glycol IP q.s.
DOSAGE & DIRECTIONS FOR USE
Cattle per 50 kg bodyweight S/C Route OR as directed by the Veterinarians.
PACK SIZES
10 ml with Needle & Syringe
Products of Karnataka Antibiotics Ltd.
Product Name: IVERMEC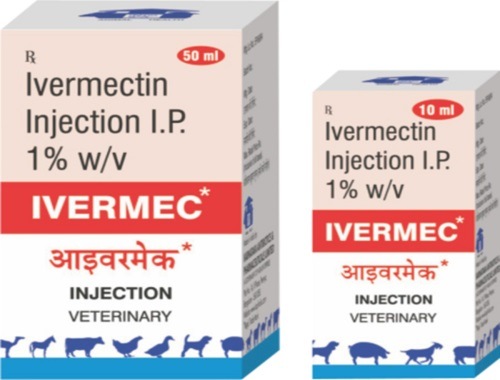 Therapeutic Group: DE-WORMER
Composition:
Each ml contains
Ivermectin IP 10 mg
Features & Benefits
Indication:
• Kills tick, lice, mite, flea, fly & mosquito on the skin of the animals
– Kills round worm, lung worm & eye worm more effectively
Presentation & Pack:
10 ml &50 ml
Dosage:
0 1 ml per 50 Kg body weight through Subcutaneous route. Source
Product of Concept Pharmaceuticals Ltd.
CONMECTIN Inj.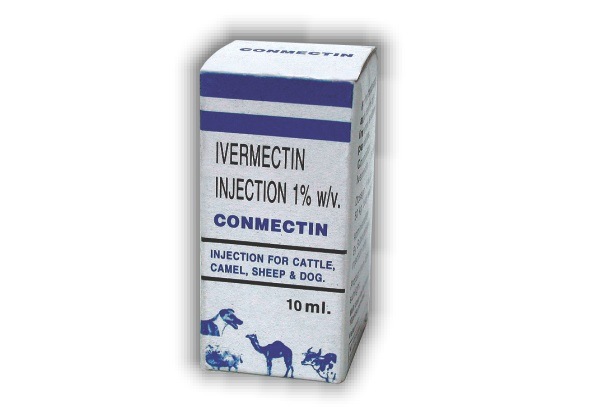 P
Composition :
Each ml of Conmectin injection contains
Ivermectin – 1% w/v\
Indication :
Nematodal infection
Ectoparasiticide infection
Dosage :
1 ml/50 kg B.wt. By s/c route
Presentation :
1 ml & 10 ml. Source
Product of Intas
Neomec
Ivermectin 10 mg/ml
Volume
1ml, 7ml, 10ml ,20ml, 50 ml vials
Animal Species
Cattle / Buffalo / Sheep / Goat / Camel / Pig / Dog / Rabbit. Source