By making Silage, we can harvest all the crops in one day. Silage may be made by the landed farmer. If the landed farmer is cultivating maize on his own land then he has to invest in seed irrigation and fertilizer including labour cost all this accounts for Rs. 2000/- per Acer and in two crops you can harvest 400 quintals of maize from one Acer land (see maize production in the link below).
In this way, in less than 1 rupees you can get 1 kg silage. Whereas the cost of bhusa is & rupees/kg. So silage making is a net gain. For making Silage finally cut maize crop is dumped in the bunker and the air is removed and bunker is sealed. The sealing should not allow air inside. After 45 days the Silage is ready for cows. After 45 days the silage will be ready. Search the internet for more silage making videos.
Silage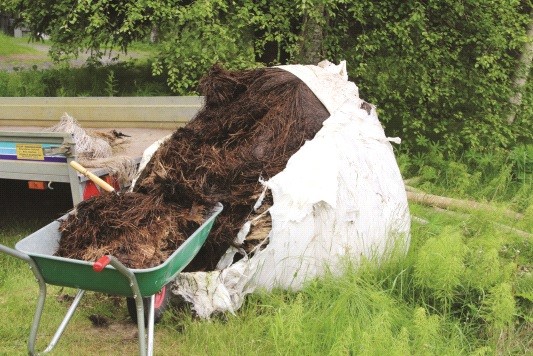 The biggest constraint in dairying is fodder and feed. Ever 60 to 70% expenditure is on fodder. You can make silage with making silage the fodder is available all the time for the whole year. You need not bring fodder and chaff it. It needs not of labour and labour is costly by making silage you employ labours for a day only. It is your land the land is ready for next sowing. You can take 3 crops of maize in zoo day starting from February to August. If you do not have land you can purchase standing crop and even for can. For contract farming in dairy, there is no other way to increase your margin of profit with silage you will have loss disease reproductive problem and higher milk-producing. Milking machine mas milk chatter and milk packing machine.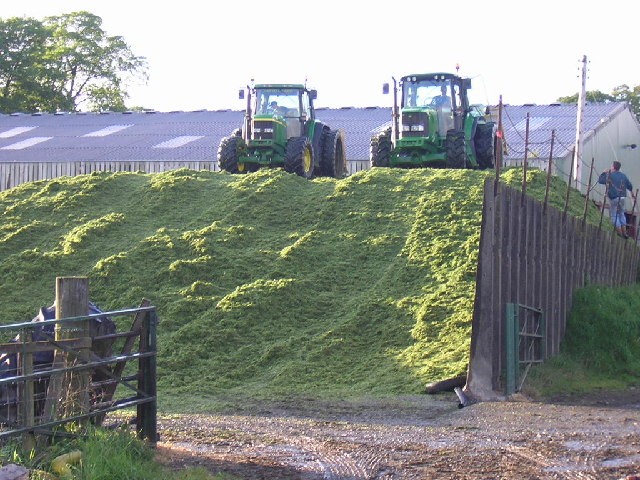 If your production of milk is over 100 litres to 500 litres that you need to consider milking machine with this machine you can milk 8 cows in 5-10 minute if you have miking load. Milking machine is a problem in desi cow and buffalo but the cows produced from high–quality semen are breed to adapt the milking machine. You need a generator because of voltage variation machine does not work.
The cost of a good milking machine is about a lakh and for the addition of bucket cost you 20,000 each bucket. The local machine work for 2-3 cows if you have 10-20 cows they will do but for larger hard, you need a good machine with good maintenance service. Once you have high producing cows you need to milk 3 times then you need but milk cooler. If you go for proper milk marketing then milk packing machine is necessary.
Hydroponic Fodder
Without land, we can go for dairying by growing hydroponic fodder. In this process from one kg grains, you can harvest eight kg of fodder in 8 days. What you need is water, pH and continuous supply of light and trays. No fertilizer or soil is needed.
The pH should be 6.0 to 6.5 humility by 60 to 65 and temp 20° to 25°C temperature and humility is critical the temperature and humidity restrict the growth. First, you soul the 20 kg seed of bajra wheal or burly for 12 hours. To restrict the growth of fungus, add DOMAX in water it will be easily available in the market.
You can visit this link for more details on Fodder Cultivation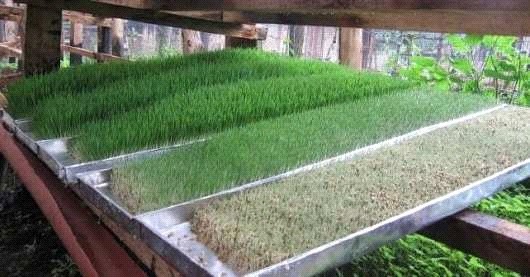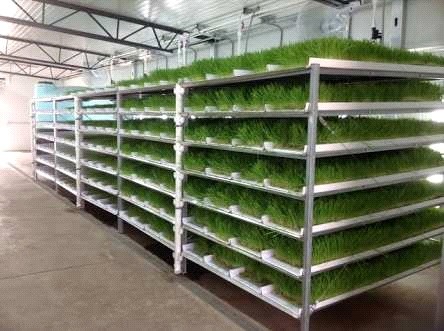 After 24 hours take out the seed and keep then wrap in cloth for 24 hours at a warm place. You need a tray with a hole in the bottom of the size of 2*3 feet and 3 inch high. Spread seeds in keeping tray and light as shown in picture provide water by sprinkler contentiously. The fodder will come up in 8 days.